15 days Mexico - English guided tour
February 22 - March 07, 2020 
Bookings - Photo Tour Operator Luminous Journeys

Mexico is one of the most varied, colourful and photogenic countries in Latin America. Unique motifs within the realm of landscape and portrait photography await you all over the different regions of this country. You can still get a sense of the magic of the old Maya civilisation in many places of this country. Are you a beginner who would like to advance his photography skills in unusual places? Or are you an advanced photographer on the search for new and unknown photo subjects? Either way, this trip is exactly the right thing for you!
On our trip, we will always be in the right place at the right time to snap subjects in perfect lighting conditions. Our shootings focus on the various flora and fauna, Mayan cultural sites, colonial cities and the people of Mexico with their traditions and cultures.
This photo tour will take place during the Mexican winter. With good temperatures and dry climate throughout the country, this is therefore the best time for us to travel. The Caribbean Sea will reflect intensive turquoise tones underneath the blue sky, the jungles of Chiapas will gleam with lush green and the mountain landscapes of Oaxaca will offer fantastic views during the dry season.
A photo journey through Mexico is certainly any photographer's dream!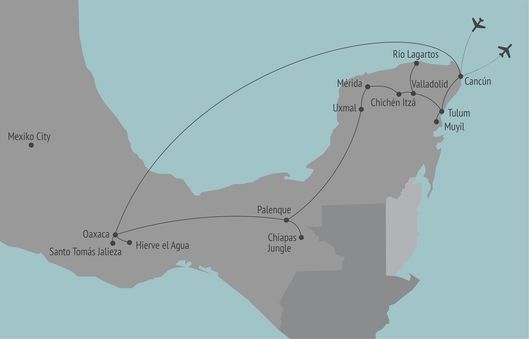 Our journey takes us from Cancún on the Caribbean coast of East Mexico along the Mayan peninsula Yucatán and down south to the state Chiapas. From there on, we will fly to Oaxaca and end our journey at our starting point in Cancún.
LOCATIONS: Cancún, Tulum, Muyil, Valladolid, Chichén Itzá, Río Lagartos, Mérida, Uxmal, Palenque, Jungle of Chiapas, Oaxaca & Surroundings
Tulum & Chichén Itzá under the night sky and at sunrise

The flying men of Papantla

Private model shoot in traditional attire in the ruins of Muyil

Untouched cenotes in azure blue water

Pink-hued lakes of Las Coloradas

Private photo shoot with the Yucatán ballet Folklórico in colonial Hacienda

Unique Mayan ruins of Uxmal along the Ruta Puuc

Roaring waterfalls in the jungle of Chiapas

The last Lacandon Mayans in the jungle of Chiapas

Magnificant colonial cities, Valladolid and Oaxaca

Petrified waterfalls of Hierve el Agua

Workshop with Fernando Cruz & private photo shoot with Oaxacan models
DAY 1 – BIENVENIDO A MÉXICO! – Cancún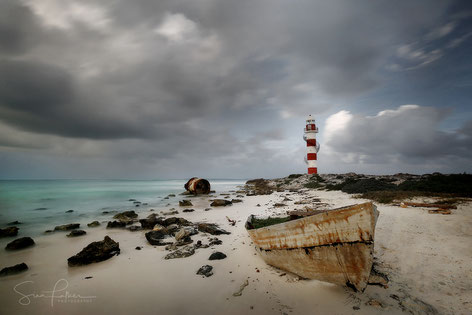 After collecting everyone individually at the airport in Cancún, we will first check into our hotel near the Caribbean Sea. Then at 4 p.m. in the afternoon, we will gather to introduce the itinerary of Mexico's uniqueness and conduct a workshop on the topic of travel and night photography. From then on, we turn our sights to two exciting weeks packed with extraordinary photo opportunities. Following the workshop, we will have the opportunity to take pictures of our first sunset in Mexico. Over dinner, we can chat together and start to get excited as we discuss our shared adventure we are soon to embark on.
DAY 2 – VOLADORES DE PAPANTLA & RUINS UNDER STARS – Cancún – Tulum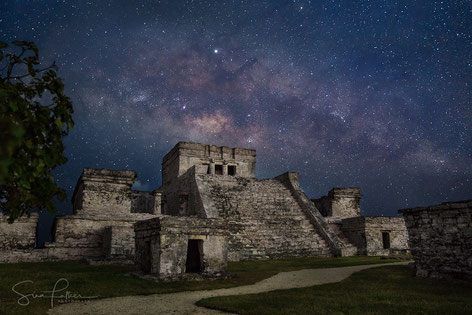 Following breakfast, we will make our way to Tulum. After our arrival in the early afternoon, we will visit the "Voladores de Papantla", the flying men of Papantla. During a breathtaking and artistic performance, we will witness the four men abseil headfirst from a rotating platform. After checking into our hotel, and enjoying a break at the splendid beach of Tulum, we will reconvene with our friends, the "Voladores", in their colourful attire. On the cliffs of the Caribbean Sea, we will then have the opportunity to have another private photo shoot. Our first highlight will then await us after dinner, when we make our way to the ruins of Tulum. Here we can then take pictures, being the only visitors of this Mayan temples by the Caribbean Sea at nightfall.
DAY 3 – MYSTICAL RUINS & COLORFUL ATTIRE – Tulum – Muyil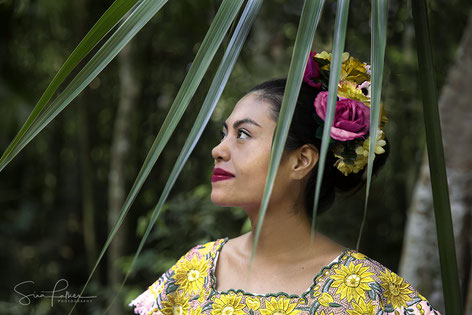 Our exciting shoot in the ruins of Tulum is not over yet. We will also experience and capture the sunrise in this mystical place. After we have had the chance to explore the Mayan temples by daylight, we will head to the hotel for our well-deserved breakfast. After a relaxing break at the sea, we will photograph the ruins of Muyil as another highlight. Few tourists stray into this magic place, situated in the middle of the jungle. During a walk through the dense green of the rainforest we will be accompanied by a model in a traditional Mayan attire, the "huipil", which we will photograph in this very extraordinary ambience.
DAY 4 – BOAT TRIP ON THE RIVIERA MAYA & SPIRITUAL MAYAN CEREMONY – Tulum – Valladolid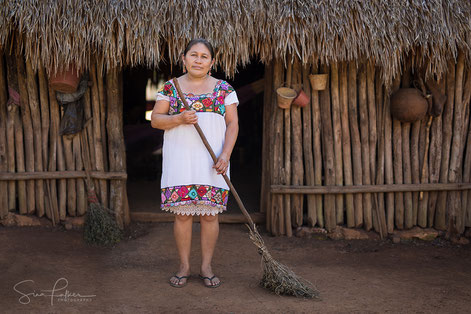 After a slightly longer rest, we will take a morning boat journey to photograph the Mayan ruins of Tulum from a completely new perspective. It is here, from the sea, that we will discover two more hidden temples, which cannot be accessed by land. After this astounding trip, our journey will continue to a cenote near the colonial town of Valladolid. We will then experience a Mayan ceremony in an underground cave, flooded with rays of light. Afterwards, we will arrive in Valladolid, and explore the historically-rich old town by foot throughout the late afternoon and evening.
DAY 5 – AZURE BLUE CENOTES & TRADITIONAL LIFE – Valladolid – Chichén Itzá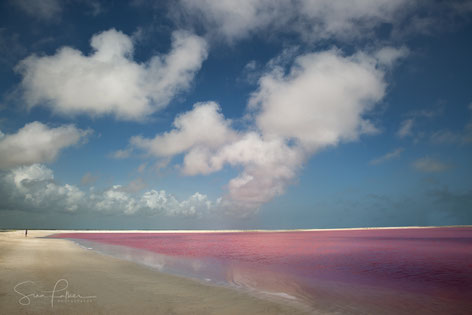 Today, we will kick our tour off with a photographic discovery of another magical cenote of Valladolid. It is off the beaten track and rarely visited by other travellers. You will be enthralled by this giant, underground cave with its azure blue, crystal-clear water. We will enjoy our lunch in a traditional restaurant, run by the local Mayans. You can watch, in front of your very eyes, how Tortillas are made and enjoy dance performances with traditional Yucatán clothing. Subsequently, we will visit a Mayan family, to get to know more about traditional life in rural Yucatán. By late afternoon, we will arrive in Chichén Itzá where we will spend the night in a resort hotel right beside the majestic ruins. Up until our evening meal, we will have time for a workshop on the theme of "night photography – image editing in Lightroom and Photoshop".
DAY 6 –STARS AND SUNRISE IN CHICHÉN ITZÁ & THE NORTHERN COAST – Chichén Itzá – Río Lagartos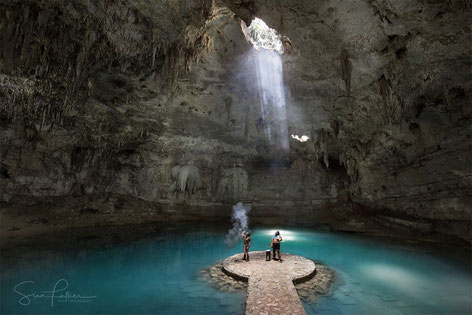 We will have a special permit for night photography tonight. Those who wish to photograph the Milky Way in the Mayan ruins of Chichén Itzá, can make their way there with me at night. You can if you wish, however, also join at sunrise. After a restorative breakfast, we will continue on to Río Lagartos. After the exciting photographic events of the previous night, we will have the opportunity to relax on the beach. During late afternoon, we will embark on a boat trip with the Mexican wildlife- and landscape photographer William Cruz Canto to photograph the sunset. Here we will also keep a lookout for the resident flamingos.
DAY 7 – WILDLIFE & THE PINK LAKES OF LAS COLORADAS – Río Lagartos – Mérida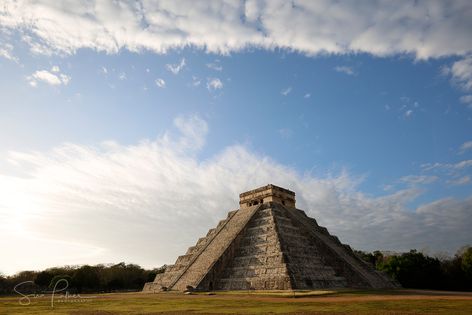 The next morning, we will begin shortly after sunrise and travel with William by boat on a new photo-safari. We will be on the lookout for flamingos, crocodiles and other coastal inhabitants, to capture them in our pictures at dawn – the time they are at their most active. Subsequently, another highlight of Mexico awaits us, the Pink Lakes of Las Coloradas. Our tour will finish with a photo-walk in the fishing village San Felipe, known for its vibrant wooden houses. It is here we will say goodbye to William and continue our journey towards Mérida. The region is known for its expressive dance performances in colourful costumes. In the evening, we will savour Yucatán specialities of the Mayan peninsula.
DAY 8 – YUCATÁN DANCE & ENCHANTING COLONIAL HACIENDA – Mérida – Uxmal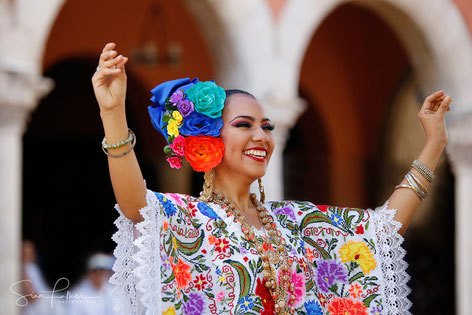 This morning, we will experience a rather unusual and colourful photo shoot in a Spanish Hacienda from the colonial era. We will photograph a private performance of the Ballet Folklórico of Mérida, while different dances in traditional Yucatán costumes will be performed. Afterwards, we will still have time, to snap a few portrait shots in the garden and antique premises of the Hacienda. Equipped with a load of new and colourful photographs, we will continue our journey to Uxmal in the afternoon, where we will visit its fascinating ruins the following morning. They differ significantly from other Mayan dynasties due to their detailed decorations. After checking into our resort hotel, right next to the ruins of Uxmal, we will have time in the afternoon for a picture review.
DAY 9 – WORLD HERITAGE SITE UXMAL & THE WAY TO PALENQUE – Uxmal – Palenque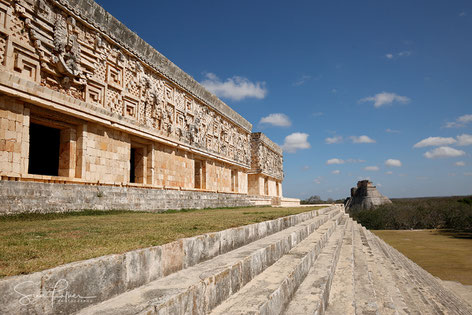 After breakfast, we will enter the ruins of Uxmal at 8 a.m. on the dot, in order to be the first visitors of the day. They are some of the largest and most beautiful ruins in Mexico and are one of the UNESCO world heritage sites. Up until lunch, we will have time to explore the decorative facades. Then, we will embark on a new photographic adventure, as we leave the Mayan peninsula Yucatán and head south. After a seven hour journey, we will arrive in Palenque in the state Chiapas. Throughout our coach journey, we will have multiple opportunities to stop and take pictures.
DAY 10 – ROARING WATERFALLS & THE JUNGLE OF CHIAPAS – Palenque – Jungle of Chiapas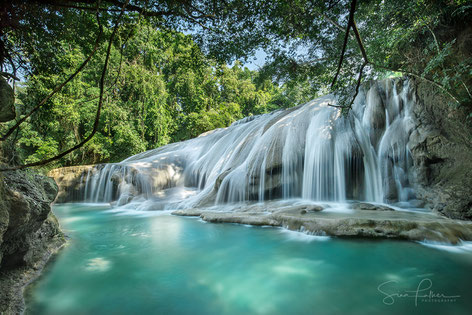 This day marks the start of our journey into the jungle of Chiapas, where we will first visit multiple breathtaking waterfalls. The turquoise water carves its way through the jungle and cascades down, plummeting several kilometres over the cliff edge. Several natural pools have formed over the years. Here, with this unique spectacle of nature, we will have the chance to take beautiful long-exposure shots using a tripod and different filters. We will then leave the impressive waterfalls and continue our journey further into the jungle of Chiapas. By late afternoon, we will have arrived in our Eco-lodge in the village of the Lacandon Mayans. If it is a cloudless night, we will have an opportunity to capture the stars over a nearby lagoon.
DAY 11 – THE JUNGLE OF CHIAPAS & THE LACANDON MAYANS – Jungle of Chiapas - Palenque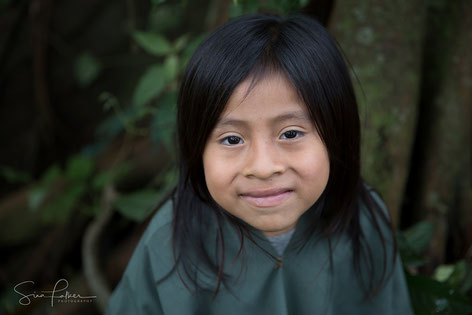 Today, we will spend the entire day with the last Lacandon Mayans. During the colonial era, they remained undiscovered, deep within the jungle, allowing them to continue the traditions of their ancestors undisturbed for years. In the morning, we will visit the last shaman, who will conduct a private Mayan ceremony for us. In order to discover the villagers and their culture in more detail, we will also meet some Lacandons in their houses. In the afternoon, we will explore the Lacandon jungle with a group of Mayans. There will be brilliant photo opportunities in the dense, green jungle amongst its giant tropical trees. Afterwards, our Lacandon friends will join us to the nearby lagoon. Here, we have a once in a lifetime opportunity to photograph the Mayans in their white tunics on their boat ride in the traditional canoe "Cayuco". After a common dinner we thank the Mayans for the wonderful day and drive back to Palenque.

DAY 12 – OFF TO OAXACA! – Palenque – Oaxaca
After breakfast we drive to the airport of Villahermosa to head for our last destination together, the culturally-rich state of Oaxaca. Our flight leaves in the early afternoon and takes us via Mexico City to Oaxaca de Juárez, where we will arrive in the evening. After a dinner in the colonial center of the city we look forward to our photo adventure Oaxaca, which promises pictures of unique landscapes and unmistakable people.
DAY 13 – PETRIFIED WATERFALLS & TRADITIONAL OAXACAN ATTIRE – Hierve el Agua – Oaxaca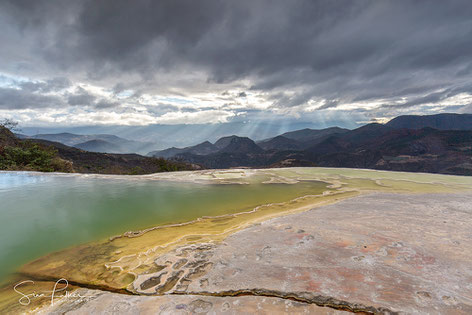 Today, we will set off before sunrise, to the petrified waterfalls of Hierve el Agua. The yellow- and brown-toned rock formations, which were formed over thousands of years through the mineral spring water, span over the mountainous landscape with breathtaking panoramic views. We will photograph the stunning landscape from different perspectives before others arrive at this destination. Back in Oaxaca, we will be accompanied with the professional Mexican portrait photographer, Fernando Cruz, throughout the afternoon. Fernando is a master of perfecting the light conditions and will carry out the workshop on that topic. We will have a photo shoot with models in different Oaxacan attire in the historical centre of Oaxaca. Both today and the following day are very special, because, unless it is a special Oaxacan holiday, you will rarely get the opportunity to witness the vibrant variety of traditional clothing with your own eyes.
DAY 14 – COLORFUL MARKET LIFE & OAXACAN ATTIRE – Oaxaca & Surroundings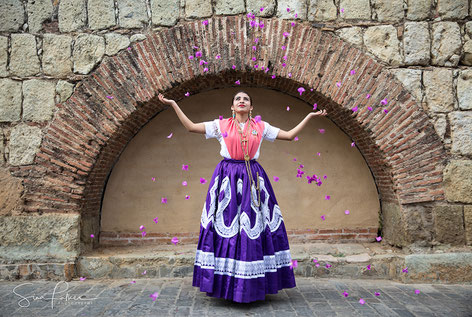 This morning, we will dive into the fascinating and vibrant market atmosphere of Oaxaca and visit the weekly markets of Santo Tomás Jalieza und Ocotlán de Morelos. You will see all kinds of things being traded, such as fruit, vegetables, animals and craft. In the early afternoon, we will yet again meet with photographer Fernando in an Oaxacan village to once more have the special opportunity of photographing men and women of the region in their traditional attire. By evening, we will enjoy Oaxacan specialities at our farewell meal and relive the exciting experiences of our photo journey together over a glass of Mezcal.
DAY 15 – HASTA LUEGO! – Oaxaca – Cancún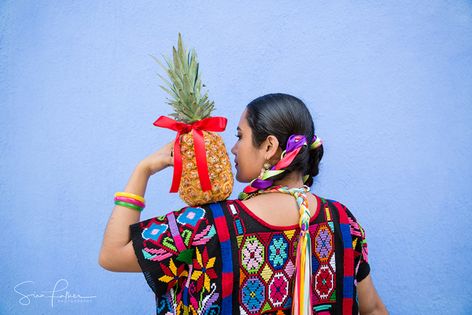 Hasta luego! Now it is time to say farewell, as our journey together ends today. Saying goodbye is never easy, but now you can at least know for certain that you are heading home with a new brilliant photography portfolio. Come midday, we will fly, with a brief stopover in Mexico City, back to the starting point of our journey in Cancún. If you want to relax and unwind on the white beaches of the Caribbean after our exciting photo adventure, then this would be the perfect opportunity.
Additional information: Before the start of the tour, you will receive in-depth documentation with all necessary information about the trip and its schedule.
Please note that small changes of the tour or sequencing of the photo shoots may occur. Discovering new, unplanned things in such a diverse country with its lively inhabitants is also part of the experience.
Workshops on Photoshop and Lightroom, as well as opportunities for picture reviews, can all be flexibly integrated into a suitable timeframe in our travel plans.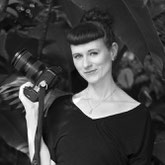 SINA FALKER
Photography- & Tourguide
Cancún - Oaxaca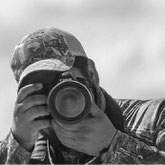 WILLIAM CRUZ CANTO
Wildlife- & Landscape photographer
Río Lagartos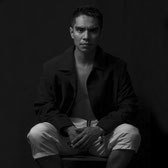 FERNANDO CRUZ
Portrait photographer
Oaxaca

NEXT TOUR DATE:
February 22 - March 07, 2020 - English guided tour
With group bookings, it is possible to change discuss a suitable date and change it accordingly.
BOOKINGS: Photo Tour Operator Luminous Journeys
PRICE: $5.995 USD

SINGLE SUPPLEMENT: $850 USD
MINIMUM DEPOSIT: $1.500 USD
NUMBER OF PARTICIPANTS: 4 person minimum, 10 person maximum
TYPE OF HOTEL: Comfortable hotels of a high standard (the best possible accommodation in remote areas)
LOCATIONS: Cancún, Tulum, Muyil, Valladolid, Chichén Itzá, Río Lagartos, Mérida, Uxmal, Palenque, Jungle of Chiapas, Oaxaca & Surroundings
Pick-up at the airport

Photo Tour Guide (German/ English/ Spanish)

Local guides

All accommodation during the tour in a double room (surcharge for single occupancy available on request)

All meals (water included)

All transport in buses or private vehicles

Two in-country flights during the tour

Local models

All entrance fees during the tour
International flights to and from Mexico

Any kind of insurance (Trip cancellation, medical insurance, etc.)

Medical expenses

Other personal expenses

Tips for local guides and staff

Optional excursions
FLIGHT TO MEXICO:
Book your outbound & inbound flight to and from Cancún.
Do you fancy sharing this experience with me?
Then I look forward to having you come along!